Internet slow on your Windows 7 or Windows Vista computer?  Look no further, this article has everything you need to know for how to fix your connection to wright state's wireless network!
Now, being the computer guru that I am, I have two different methods here for you to attempt on your desktop or laptop.  There is the "new-to-computers" method, and the "let's get to the meat and potatoes of this already" method.
Method 1 ("New-to-computers")
1. On the bottom right bar of your computer, look for the wireless network icon.  It may look like this: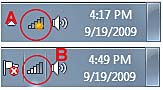 2. Click on the icon so that the wireless network menu pops up like this:
3. Once connected to a network, right click the network from the list above and click "Status."
4. After a small window pops up, click the button near the bottom right that says "Diagnose."
Windows will now attempt to repair your wireless connection and make it so that you can connect to the internet.
If after this step your internet is still extremely slow or it won't load at all, continue to the next method.
Method 2 ("Let's get to the meat and potatoes of this already")
This method will completely refresh the connection to the network, and if this method doesn't work, either the wireless network may be too far away, or the network is having some other sort of problem.
1. Click on the Start button at the bottom left corner of your screen.
2. Type "cmd" into the search box and hit Enter.
3. Your instant search should now show a file called "cmd.exe" at the top, click and open that file.  This is Command Prompt, it should look like this: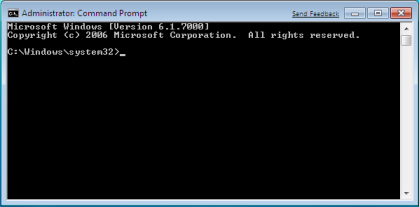 4. Now with your cursor inside the command prompt window, type this command without quotes, a space between the first word and the slash, and hit enter: "ipconfig /release"
Your computer will now disconnect itself from the network.  We must manually tell it to reconnect within command prompt.
5. After command prompt is sitting on the line that says "C:\Windows\system32>_" again, type this command just like the last one, and hit enter: "ipconfig /renew"
Now this command will take much longer, and you will see command prompt hang on a line that says "Wireless Network connection."
Your computer is now negotiating terms with the network and will connect momentarily, in the mean time go enjoy a nice cup of coffee or cider. 
6. Once command prompt returns back to the line that says "C:\Windows\system32>_" again, you should be successfully reconnected to the network.  You may close command prompt and continue with your daily internet tasks.
If this second method didn't work for you, feel free to send me an email at head.11@wright.edu or if you have any questions or concerns.
Signing out from WSU Tech Talk,
Brandon Head